Introduction:
We've explored fleece fabric and its types before. Fleece material is well known for its softness, comfort, and durability. Therefore, it is widely used in various garments and blankets. If you want to wholesale fleece fabric, you have come to the right place.
There are many different types of fleece fabrics, such as polar fleece, sherpa fleece, polyester fleece, microfleece, cotton fleece, and so on. They have their own characteristics and applications. Next, we will introduce you to a very popular type of fleece fabric: polar fleece. If you want to know more about this fabric, please read on.
What is polar fleece?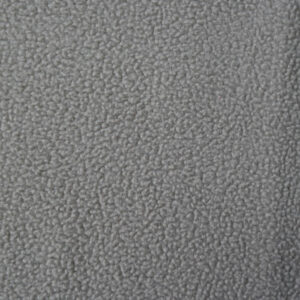 Polar fleece is one of the most popular and durable fabrics. It is made of polyester, soft, synthetic fabric with a fuzzy surface. It has some of the benefits of wool but is much lighter in weight than wool. Not only is it lighter in weight, but this fabric is also very soft and comfortable. Its excellent warmth makes it a good choice for winter clothing. In addition, this fabric is hydrophobic and has an excellent insulating ability.
According to the specification of polyester, it can be divided into the long fiber, short fiber, and microfiber. Microfiber polar fleece has the best quality and the highest price. Generally, short fiber is used to make clothes, while long fiber is used to make home carpets, etc. In short, polar fleece has an extensive range of uses. It is often used to make hats, sweaters, sweatpants, hoodies, sportswear, blankets, and more.
The history of polar fleece
Emergence
The first polar fleece was born in 1979 at a mill called Malden Mills. The mill had been processing origin wool, dyeing, printing, and finishing wool since 1906 and supported the U.S. Army in both world wars with technical and clothing support. The war benefited Malden Mills economically but made virgin wool a scarce material. With the development of nylon and spandex at the time, changes to Malden Mills' traditional wool business were imminent.
Soon after, Aaron took over the factory. He wanted to produce a kind of lightweight, high-strength fleece fiber product. It has better moisture absorption and breathability than traditional wool fabrics and is very effective in keeping out the cold. After testing, the new material was light and soft, twice as insulating as organic natural wool and four times more insulating than cotton. Malden Mills immediately began mass production, which was the birth of polar fleece.
Development
Perhaps because of the closed market, polar fleece was unpopular when it was first introduced. The long-time investment made Malden Mills unable to make ends meet and on the verge of bankruptcy. But in the late 1970s, climbing fever took hold. At the time, Yvon Chouinard was looking for a new fabric to replace wool in outdoor clothing. When he learned of the availability of polar fleece, he quickly approached Aaron, and collaboration ensued. So in 1985, Patagonia's first polar fleece-Synchilla was launched. With many orders, the two companies played to each other's strengths, and together they were on their way to the top. This fabric was also beginning to take over the dominant position from the wool material in mountaineering clothing. And it slowly extended to other areas.
The characteristics of polar fleece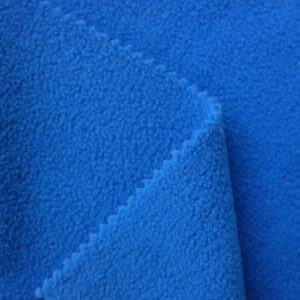 Warm and soft
Polar fleece fabric is very good at keeping you warm. It does a great job of retaining your body heat so that you can be warm even in the cold winter. When you are wrapped tightly in your polar fleece blanket, besides being warm, you will also feel incredibly soft and comfortable. Good warmth and softness are the main reasons why people love this fabric.
Durable
Durability is one of the factors that people consider when choosing fabrics. If you are looking for durable fabric, then the polar fleece is your best choice. It will not be worn out easily.
Breathable
For people who exercise a lot, sweating is an inevitable thing. Many people choose breathable sportswear so they don't have to overheat. This fleece fabric can meet your needs very well, and it is very breathable.
Lightweight
Many jackets are made very heavy in order to keep you warm in the winter. This is not the case with polar fleece jackets, which are very lightweight.
Hydrophobic
Hydrophobicity refers to the ability of a fabric to resist being wetted by water. Polar fleece fabrics are hydrophobic. This means that you will not get wet quickly even if you are in light rain. This is certainly helpful for those who love to travel outside.
Good insulation
For insulation, the polar fleece fabric also does a good job. This soft fabric maintains good insulation ability even in wet weather.
Quick dry
Polar fleece is quick-drying. You can throw it in the washing machine, and you will find that it dries quickly after washing.
Suitable for people allergic to wool
For those who are allergic to wool, polar fleece fabric is the best choice. It can meet your needs very well without making you uncomfortable.
Multi-Purpose
The excellent warmth, softness, and durability of polar fleece make it versatile. It is not only used in clothing such as jackets and sweaters but also in blankets. As a famous blankets supplier in China, Zengbo can provide you with a wide range of high-quality wholesale polar fleece blankets. For example, Custom Soft Blue Polar Fleece Blankets Wholesale, Customized Plush Printing Polar Fleece Blankets Wholesale, Custom Plaid Patterned Polar Fleece Blanket, and more.
How to wash polar fleece?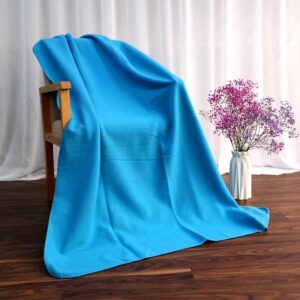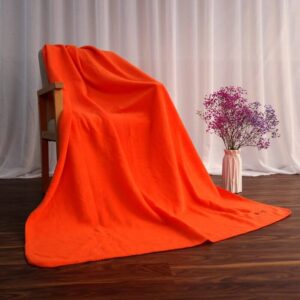 It is well known that polar fleece is a very durable and low-maintenance fabric. All you need to do is follow the care instructions on the label, and you'll have a brand new polar fleece sweater, jacket, or blanket.
1. It would be best if you treated all the stains on the fabric before washing. You can choose a little detergent. Apply the detergent to the stain and immerse it in cold water for about fifteen minutes. Finally, blot the stain gently with a paper towel, remembering not to rub too hard.
2. Polar fleece fabrics are machine washable, but you're better off choosing a gentle cycle. This will minimize wear and tear on the fabric and prolong its life of the fabric. Turning the fabric over also reduces pilling and fraying. You can add a mild detergent, but do not use bleach.
3. After washing, you should hang your fabric to dry naturally. If you don't have time, you also have the option of using a dryer. Choosing a low to mid-range heat setting is best for your fabric.
Conclusion:
Above is the detailed introduction to the polar fleece fabric. Whether personalized polar fleece blankets or polar fleece wholesale, Zengbo can meet your needs very well. Please feel free to contact me if you have any requirements.