Shower curtains are a necessity in the bathroom. The function of shower curtains is to stop water splashes from the shower on the floor and nearby things. They also are used for privacy purposes and to separate the shower from the rest of the washroom.
Most people face a problem getting a shower curtain because the required design is only available in standard size for shower curtains in the market. Or the design they are looking for is not available in that particular size. That is where a custom size shower curtain comes in, letting the buyer choose the length and the design.
The custom-size shower curtains come in various fabrics, and as far as the designs are concerned sky is the limit. Here are the top 10 them for you to choose from
1. Sailboat Printed Shower Curtain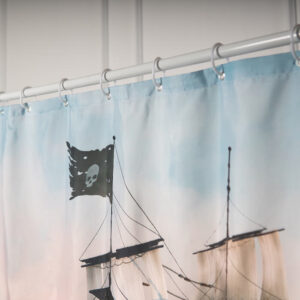 The sailboat printer is one of the beloved custom made shower curtains. It gives your shower area a pirated theme look. These sailboat-printed curtains are waterproof and made from polyester, making them easily washable and long-lasting.
2. Custom Shower Curtain with Famous Paintings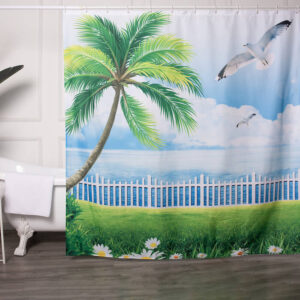 If you are a painting lover, the custom-printed curtains with famous paintings would be perfect for your shower. It gives your shower area a classic yet stylish look, made from 100% polyester.
3. Custom Floral Printer Shower curtain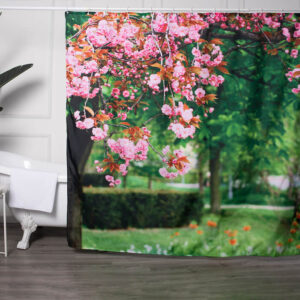 Floral printed shower curtains are classic, matching almost all the design and colors of the washroom. With the benefit of choosing these shower curtains by size, you can further adjust this curtain according to the requirement.
4. Animal Printed customer shower Curtain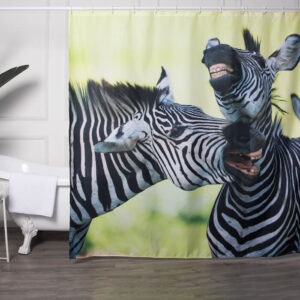 Animal printer shower curtains are a fan favorite. If you want to show affection towards your pet, getting a printing custom made shower curtain with their picture is a prominent way.
5. Custom Made Shower Curtains with Butterfly Paint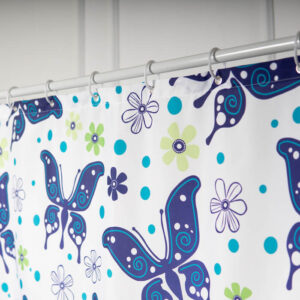 Butterfly-painted curtains are a classic for a reason, as they can go with almost any theme of the shower area. With the help of custom-made curtains, you can get butterfly printed curtains other than the standard size of a shower curtain
6. Seaworld 3D Custom Curtain Print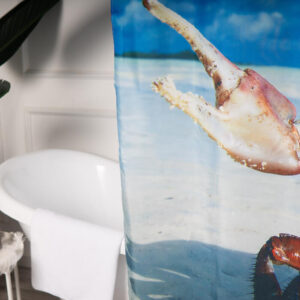 If you want to give your shower area a 3D look, then the Seaworld 3D print might be perfect. It gives your shower area an aquarium-like feel, making it perfect for aquatic animal lovers.
7. Private Label Shower Curtain
Suppose you own a brand or are looking to start one yet with private labeling of shower curtains. Then with the help of custom-made curtains is more convenient than ever before.
By using custom made curtains for private labeling, you can choose shower curtain sizes according to the requirements and demands of customers.
8. Custom Printed Curtain with Celebrity pictures
Are you a fan of a particular celebrity? If yes, then custom printed curtains with their pictures will let others know how much you admire this celebrity.
People who love to wear T-shirts or hang pictures on the wall of their favorite celeb will sure love this celebrity's custom-printed curtain as well.
9. Modern Custom Printed Curtain
Designs are everchanging in this fast-paced world. If you are an enthusiast about decorating your home with the latest design, this applies to curtains too.
Using the custom-made curtains, you can choose the latest trendy design and get it printed on a curtain to have a modern look for your shower area.
10. Custom Curtains With Your Own Design
If you are someone, that does not settle with what most people like in designs or feel the available curtain designs are outdated. Then with the help of custom curtains you can create a design yourself and get it made on a curtain.
Choosing custom curtains means you don't have to worry about shower curtain height. Whether you want short shower curtains or long ones, using the custom made option, you can make them according to your need.
The Size of A Custom Shower Curtain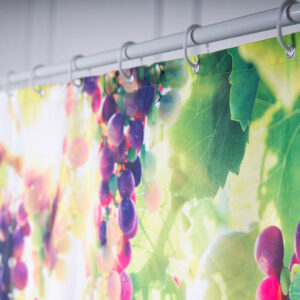 Many people come across various issues while deciding on a shower curtain, like their required size or the design they like is not available in their size. Finding a curtain that you have precisely in your mind can become quite tedious.
The main benefit of getting a custom-made shower curtain is that you don't have to worry about the size or the design. If you have a special size shower curtains request or want custom-length shower curtains, you can do this by using these custom-made showers.
Unlike readymade curtains, you have the ability to choose the material of your curtains and the design you want to get printting on them.
The Types Of Custom Size Shower Curtains
It is up to you to choose which type of curtain with custom size. There are four famous types of a curtain
1. Custom Vinyl Shower Curtains
For several reasons, vinyl shower curtains are commonly used worldwide. A vinyl-made shower curtain is relatively cheaper than its other counterparts. They are easy to clean, and a vinyl curtain can be cleaned using only ordinary detergent.
With budget-friendly rates, custom vinyl curtains are popular. You can get them made according to your particular size of shower curtains and design of your liking without breaking your bank.
2. Cotton Shower Curtains
Cotton is for its durability and long-lasting. Its airy natural fabric and availability in various colors make the cotton shower widely popular.
Curtains made from cotton are easy to clean and last long. Its texture and light weight make the cotton perfect for custom-size shower curtains.
3. Decorative Shower Curtains
A shower curtain is more than a shield that separates your showering area from the rest of the washroom. With suitable designs, shower curtains can not completely transform your custom-size shower curtain area but the whole bathroom.
Decorative curtains will give the shower area a premium feel. They are available in Cotton, Linen, and vinyl material. But, you can choose the design and decorate the shower area using custom-made curtains.
4. Hookless Shower Curtains
Gone are the days when you must use a hook to attach almost everything. Hookless shower curtains are available, which can seemingly connect to your shower area without compromising its look.
With extra long curtains and liner or any particular size shower curtains, you can use a custom size shower curtain with a hookless to give the washing area an aesthetic feel.
Conclusion
Using a custom size shower curtain gives you the freedom to choose any size and design of your choice according to your requirement and get it printting on the fabric of your liking.