Blankets are a necessity for almost every household. Nothing is better than coming home after work and getting inside a cozy blanket during cold weather. As every other thing converting to custom designs, so do the blankets.
Customizing a blanket gives it the benefit of standing out from the regular design and giving a sense of attachment. Custom blankets are also an efficient way to promote your business. Here is everything you need to know about custom outdoor blankets for your business
What To Consider When It Comes To Custom Outdoor Blankets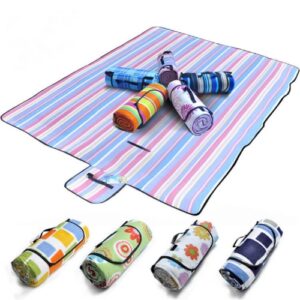 There are a few important things to consider when it comes to deciding on custom outdoor blankets for your business
Size and Shape
The primary thing to consider while getting custom branded outdoor blankets for your business is their shape and size. The shape of a custom outdoor blanket can be regular, H-Shaped, Rectangle, Lobe, trapezoid, or any custom shape. As far as the size is concerned, it can be baby-sized, for a single person or a family.
Softness
When deciding on the softness of your custom outdoor blankets for your business, you can choose Fleece, Flannel, Cashmere, Wool, Chenille, or faux fur. However, softness can be subjective, as many people love the softness of wool, but some get allergic to it.
Waterproof
If you plan to use the blankets on a beach, custom beach blankets with a waterproof fabric like Nylon or polyester will be a perfect choice.
Material
The good thing about custom branded outdoor blankets is that it is up to you to choose their design and material according to your need. Some materials commonly used for a blanket are Cotton, Wool, Down, Synthetics, Fleece, and Vellux.
Top 10 Custom Outdoor Blankets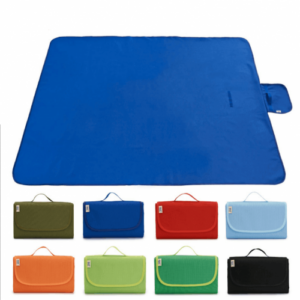 Here are the best custom outdoor blankets you can choose.
Custom Logo Picnic Blanket Outdoor Microfleece Blanket
Blankets have become crucial to any outdoor picnic. A custom logo picnic blanket can make the picnic experience more memorable. When deciding on an outdoor picnic, the risk of rain will always be there, so a personalized waterproof blanket with your business logo can be a perfect choice.
Blankets made up of microfleece can withstand the water. They have similar properties to wool but are way lighter in weight. And you can clean them easily. Making them perfect for the personalized picnic blanket outdoor.
Custom Polyester Outdoor Portable Picnic Blanket
Polyester-made blankets have a synthetic feel and are quite affordable with the warmness of any other material. A custom-made portable blanket is easy to carry around and can be used at home or on an outdoor picnic.
Picnic Blanket Custom Design Vista Outdoor Picnic Blanket & Tote
Custom design outdoor blankets are a great way to promote your business during a picnic while enjoying it simultaneously. A personalized picnic blanket can be an effective and memorable corporate gift, as it can use in summer, spring, and fall (in some places).
Roll-Up Picnic Blanket
Gone are the days when the blanket needed to be folded by more than one person to pack it properly. Roll-up Picnic blankets are portable and easy to carry around during a picnic. They also look attractive and professional during fold, making them custom beach blankets or custom picnic blankets.
Rumpl Everywhere Blanket
Rumple everywhere blankets are long-lasting, waterproof, and cozy. They are made with fine material, and weatherproofing makes them perfect for a business gift.
Beach Candy Picnic Blanket
Beach candy blankets are a perfect choice as a large picnic basket due to their extra large size. Even with this size, they are easy to carry and lightweight packing, suitable for any outdoor picnic or use as park blankets
Best Custom Waterproof Blanket: Rains Blanket
Custom waterproof blankets are essential when planning an outdoor picnic or beach party without compromising on the style. They are compact and be customized into an embroidered picnic blanket or branded outdoor blankets.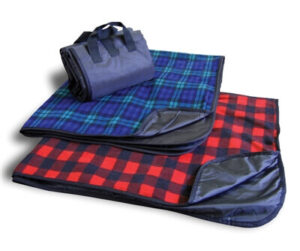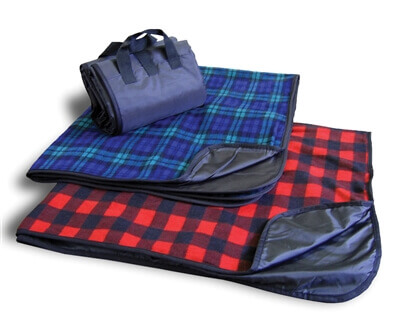 Best Custom Print Picnic Blankets: Midnight Grey Black White Diamond Mexican Blanket
Midnight Grey black white diamond Mexican blanket is evergreen and quite a popular design in an embroidered picnic blanket. With the customization freedom, you can print this design on the fabric of your choice while in custom outdoor blankets.
If you are choosing Midnight Grey Black White Diamond Mexican Blanket for an outdoor picnic or beach, choosing a waterproof fabric for your blanket is recommended.
Best Personalized Beach Blanket: Hand-loomed Cotton Picnic Blanket and Beach Throw
Creating a hand-loomed cotton process involves entwining a set of vertical threads with a set of horizontal threads. All this process is done by hand, making it unparalleled compared to the other fabric of blankets.
Custom outdoor blankets on hand-loomed cotton are premium, and the custom design stands out more on this fabric. A custom-made hand-loomed cotton blanket can also work as a Sofa throw, beach throw, or picnic blanket.
Best Custom Waterproof Blanket: Recycled Wool Picnic Blanket
Wool is known to be effectively reusable and extends the lifetime of the fabric. In this day and age where industries are now focusing on minimizing the carbon footprint by recycling whatever they can, recycled wool plays a great role.
Blankets made from recycled wool are warm, last long, and have a premium feel. Custom outdoor blankets from recycled wool can withstand rain, making them perfect for outdoor picnics or beach days. Its premium feel and recycled material make it a valuable business gift for environment lovers.
Some Suggestions Of Choosing The Custom Outdoor Blankets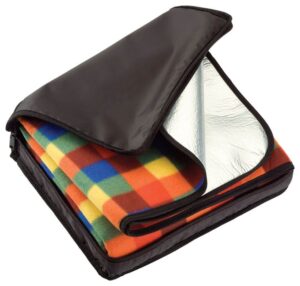 Here are some suggestions to consider while deciding on custom outdoor blankets.
Choosing Custom Outdoor Blankets According to the Weather
The weather where you will use the outdoor blanket matters the most. If you decide on a blanket that's not waterproof, and if it rains there, the outdoor activity can turn from fun to embarrassing.
For warm weather, it is recommended to use a custom outdoor blanket made with 100% cotton. They are easily breathable and provide a good airflow while keeping moisture away.
For Cold weather, you might want to consider thick, insulating materials that can keep you warm without overheating. Flannel, Fleecbeae, and quitted cotton are good options when deciding on a custom blanker for outdoor.
If you plan an outdoor activity with an outdoor down blanket in a rainy season, make sure the blankets are made of waterproof material like fleece.
The Durability of Outdoor Blankets
Durability plays a key role when deciding on custom park blankets. If you use custom-made blankets for gifts or use them for yourself, they should last long and withstand all the rigorous weather.
Custom blankets made from Nylon, Polyester, Fleece, Wool, or cotton are a good choice for durability and resistance for an outdoor picnic.
According to the Theme
Custom outdoor blankets will be a great addition if you are throwing a business party outdoor. An embroidered picnic blanket with your business logo will keep the attendees warm and cozy and promote your business simultaneously. The custom-printed blankets is also be given to attendees as a favor,  and favor like this are unexpected and hard to forget.
If you plan a themed picnic outdoor, customized blankets will pair perfectly with the rest of the theme or favors. For example, if it is a sports-based theme, you can opt for personalized sports blankets. You can custom Sports blankets according to the fabric or size of your choice.
These personalized sports blankets can also be given to the attendees as a gift to make this cherished moment more memorable.
Conclusion
The custom outdoor blankets give the freedom to choose the design and fabric of your choice. Which makes them stand out among the regular and commonly used blankets available in the market. All this functionality and ease of use make custom outdoor blankets great for business