Introduction:
When you're curled up on the couch on a cold winter's day, wrapped in a fleece blanket, you'll feel incredibly warm. Because fleece fabric is warm, soft, and durable, it is loved by many manufacturers. Fleece fabrics are widely used to make blankets, jackets, sweaters, etc. And there is not only one type; you can choose different types of fleece fabrics. Next, I will introduce in detail what fleece fabric is and the different types of fleece fabrics. If you want to wholesale fleece fabric or you are interested in fleece fabric, keep reading.

What is fleece fabric?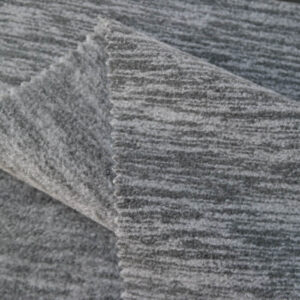 Fleece feels like animal wool, but it's not actual animal fur. It is made of polyester or other synthetic fabrics to mimic the feel of animal wool. As an alternative to natural wool, choosing fleece material can save you money, but at the same time, this fabric does not lack some perfect features. Fleece fabric is a very warm, soft, durable, breathable fabric, and it has good wrinkle and moisture resistance. At the same time, it is easy to care for, and it is machine washable, which saves you maintenance costs.
Properties of fleece fabric
Fleece fabric has many good properties that make it popular with many people.
Warm and soft
Fleece is known for its warmth and softness. Due to its good insulating properties, fleece material retains heat well and keeps you warm in cold winters. At the same time, it is very soft and feels like real wool.
Durable
Fleece fabric is a very durable fabric. It does not pill or wear easily. You can buy with confidence and use it for a long time.
Breathable
Breathability is one of the reasons why many people choose fleece fabrics. A breathable fabric will keep you comfortable and you won't feel stuffy.
Lightweight
No one wants to be weighed down by clothes. If you're wearing a fleece sweater, you don't have to worry about that at all. One of the good qualities of fleece is that it is very light and not bulky at all.
Easy to care
In general, the fleece material is easy to care for. It is machine washable and quick drying. It won't bother you at all in terms of cleaning.
Wrinkle-resistant
Fleece material will not easily deform, and its wrinkle resistance is very strong. It does not shrink even after machine washing.
Suitable for people allergic to wool.
Fleece looks the same as wool, but is a great substitute for people allergic to wool. It doesn't make you itchy or feel any discomfort.
Insulation
Fleece fabric has good insulating properties, which is why it keeps you warm all the time. It retains its insulating properties even when wet.
Uses of fleece fabric
There is no doubt that fleece is a versatile fabric and one of the favorite fabrics of apparel manufacturers. Because of the good insulating properties of fleece, it is often applied to various thermal clothing, such as jackets, hats, sweaters, gloves, etc. It is also often used in the production of sportswear. As we all know, fleece is very breathable and lightweight, which is the best partner for people who exercise a lot! It keeps people dry rather than wet all the time. In addition to common clothing, it is also applied to blankets. Whether on the bed or the sofa, a soft fleece blanket will keep you wrapped in warmth. While providing great warmth, you'll find this fabric is much cheaper than wool. The above are the common uses of fleece. Different types of fleece have different applications. The different types of fleece will be introduced below, and you can choose the kind you like according to your needs.
Different types of fleece fabrics
The following is an introduction to several common types of fleece fabrics.
Polar fleece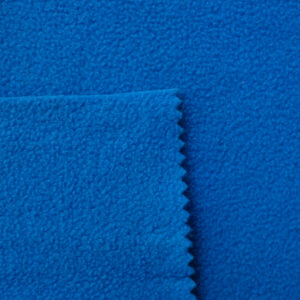 Polar fleece is one of the most popular fleece fabrics, and it is widely used in blankets and various garments. In fact, there's a good chance that the fleece-labeled clothing you're wearing is made of polar fleece. Polar fleece is very warm and will help you get rid of the cold. Its excellent durability makes it a favorite fabric for many blanket and clothing manufacturers. There are different thicknesses of polar fleece, and you can use this feature to apply it to different productions. This type of fleece material is water repellent, and even if it gets wet, it dries quickly and won't keep you wet all the time. In the cold winter or damp weather, polar fleece fabric is the most sensible choice.
Sherpa fleece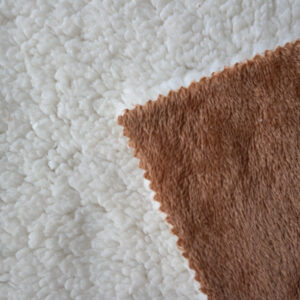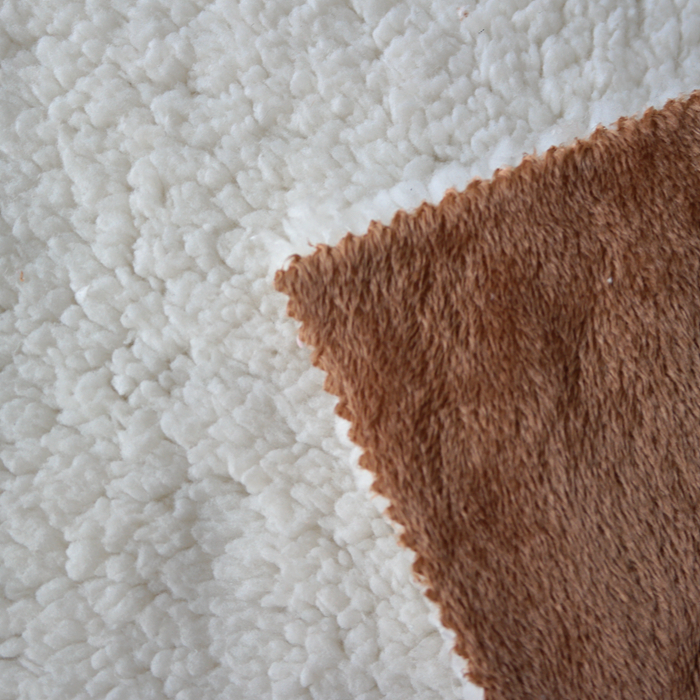 Sherpa fabric is a type of fleece fabric closest to wool in appearance and texture. The sherpa fleece has two different sides. One side is smooth, and the other is bumpy and feels like real wool. Compared with other types of fleece fabrics, it has a stronger insulating ability. This kind of fleece material is usually not used alone but is used as a lining in clothes to make you feel warmer and softer. It is worth mentioning that the sherpa fleece fabric is easy to care for, and you can toss it in the washing machine. Remember to wash with cold water.
Microfleece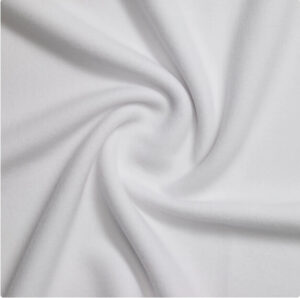 Microfleece is the lightest and thinnest of all types of fleece fabrics. It is very lightweight to wear and not bulky at all. Microfleece is not as warm as other types of fleece, but it has good breathability. Therefore, microfleece fabric is used for lightweight garments such as jackets, sportswear, etc. Its good properties make it the material of choice for performance apparel.
Polyester fleece
Polyester fleece refers to one kind of fleece made from polyester. Although it is a synthetic fabric, polyester fleece fabric is more popular and loved by people. It is widely used in making sweaters, jackets, scarves, hats, etc. Polyester fleece is double-sided with a pile on both sides. This unique design keeps you warm and effectively protects against moisture. The polyester fleece fabric is also durable, quick-drying, and won't shrink or warp after washing.
Cotton fleece
Cotton fleece is also a very popular fleece material. It is woven from natural fibers. Cotton fleece fabric is very soft and breathable, unlike some kinds of fleece fabrics that can feel very stuffy and not breathable. Good breathability makes cotton fleece used by apparel manufacturers to make soft sportswear. However, it's worth mentioning that cotton fleece has a downside that it shrinks. If you are very concerned about this unavoidable feature, you can consider other fleece fabrics.
French terry fleece
Unlike other fleece fabrics, French terry fleece is thin. Therefore, different from polar fleece, which is used to resist the cold winter, French terry fleece is often used to make shorts, shirts, and other early spring clothes. You will often see it in spring, autumn, and even summer. You will also sometimes find that your loungewear is made of French terry fleece, which is very soft and loose for a pleasant rest. Its disadvantage is that it is not thick, so it does not keep warm very well.
Lycra spandex fleece
Lycra spandex fleece is a piece of stretchy fleece fabric. It is made of mostly cotton and a small part of lycra spandex. Because of its elastic characteristics, this fleece material is often used in performance clothing. It can also make you feel warm when you do morning exercises in the cold winter. Lycra spandex fleece is also popular with manufacturers of fitted womenswear.
Conclusion:
That's all for the description of fleece fabric and its different types. If you want to wholesale fleece fabrics, you can contact Zengbo, a famous fleece fabric manufacturer. We can provide you with high-quality fleece fabrics.