Wholesale fleece fabrics can help expand your business if you make good buying choices. Fleece is available in different types. Understanding the features and applications can help you select the right fabric type.
Here you will explore all features, uses, and types of fleece fabric. We have provided a list of the top 10 fleece fabric suppliers. You can buy fleece in bulk either through their stores or order online.
Features of Fleece Fabric
Cozy fleece blankets or fabrics come to mind with the thought of the winter season. This popular fabric has some features that make it suitable for indoor and outdoor uses. You can enjoy the following features if you plan on buying fleece material:
Soft and comfortable texture: The fabric is so soft that people find it comforting as a piece of cloth. The texture feels good against the skin and is ideal for many uses.
Lightweight: Fleece is made of polyester and is very light compared to most winter fabrics. You can carry it around in your luggage easily as it is not bulky.
Long-lasting texture: Fleece does not wear out fast even if you wash it frequently. This durable fabric will last you a long time.
Traps warmth: Fleece can keep you warm on cold days because it works as an insulator. It will keep you warm yet feels light as compared to other warm fabrics.
Breathable and prevents sweat: The fabric is woven to be quite breathable. The airy nature of the material stops overheating and dries out sweat.
Easy to wash and dry: The fabric care is pretty simple. You can wash it in the machine and dry it the normal way. It dries fast, a reason for its use in outdoor activities.
These features make it ideal for use in winter and on windy days, but it is not suitable for all users. Although the material is durable, it displays fabric pilling or lint. It makes the fleece fabric unsuitable for people looking for a neat finish.
It also draws pet hair which is difficult to remove without a brush. Moreover, the fabric clings due to static charge. It is not a big issue for blankets, but you should consider it while purchasing fleece for clothing purposes.
Fleece provides warmth in the cold season, but since it does not resist wind or water, it is not suggested for extremely cold weather. Thus, you can use it in moderate conditions. Yet is not ideal for heavy activities because it is not as breathable as cotton.
Application of Fleece Fabric
There are many uses for fleece fabric, but more common applications include hats, jackets, and blankets. Let us look into each application:
Hoodies & Jackets
Fleece jackets and hoodies are a great way to keep warm in winter. You can wear them over the tee shirt or layer them under clothes. Wearing hoodies under a jacket or wearing the jacket under a coat can provide an extra layer of insulation. Fleece hoodies are casual and comfortable and perfect for trekking, hiking, or at the gym. You can wear fleece hoodies with sweatpants or leggings and fleece jackets with jeans.
Fleece Hats
Fleece hats are fashion and comfort-focused products. You can buy wholesale fabric if you own a hat business. These hats also serve as an extra layer under a hood or a big hat. Since fleece is lightweight and breathable, fleece hats are ideal for intense physical activities.
Fleece Blankets
Fleece blankets are popular for outdoor use. They provide warmth and are easy to carry in a picnic basket. Fleece blankets are made of soft fleece types such as microfleece or coral fleece. They feel good on the skin and provide warmth and comfort to the users. You can also buy fleece blankets to use as couch throws.
Things To Consider When You Buy Fleece Fabric
Buying wholesale fleece fabrics is easy, but first, you should consider a few things. Make sure which fleece material type would best suit your requirements. Some are good for clothing, while others are for blankets. Secondly, know where you should buy the fabric.
Types of Fleece Fabric
Fleece is produced in different ways. Different manufacturing practices lead to many types of fleece.
1. Microfleece
Microfleece is a very soft and smooth textured fabric. It is mostly used as baselayers or undergarments to trap heat close to the body. This type of fleece is fuzzy on one side and smooth on the other, which is why it is used as cloth lining.
You will find microfleece inside gloves or the inner layer of jackets and hats. The material is breathable, so it would provide warmth without trapping sweat. It is a great option for use in outdoor activities.
2. Polar Fleece
Unlike microfleece, polar fleece has a fuzzy texture on both sides. It has a dense fabric, which makes it durable and ideal for outdoor activities. It is easy to wash and dry and has moisture-wicking capabilities. The most popular uses include sweatshirts and tights, and that is why businesses look for polar fleece fabric wholesale.
3. Sherpa Fleece
Sherpa fleece is well-known for its use in hiking, camping, or other outdoor gear. It is highly recommended for people looking for a warm insulating fabric. Sherpa fleece has a smooth side and a fuzzy textured side.
4. Coral Fleece
Coral fleece is the softest type, and it even beats microfleece. It has a different appearance than other fleece types. The surface has tiny bumps that resemble the texture of coral reefs. Also, you do not have to worry about fabric pilling with this material.
5. Stretch Fleece
Stretch fleece is a flexible fabric made by combining a flexible material such as spandex with fleece. Athletic wear should allow the users to move comfortably. Thus, leggings and jackets are usually made of stretch fleece.
Where To Wholesale Fleece Fabric?
You can buy fleece fabric from a local store or online fleece fabric suppliers. Buying fabric from local stores allows you to feel and observe the material. You also get a clear idea about the color and quality of the products.
Another option is searching for online wholesalers. You can find many websites that are operating in your country or internationally. The benefit of online wholesalers is that you find many options. You can then pick sellers that are offering wholesale fabric at an economical cost.
It is also important to check the credibility of local or online fabric stores. You can look for buyer reviews and product descriptions before buying fleece fabric bulk.
Top 10 Best Fleece Fabric Wholesalers To Recommend
Here you will find the top 10 wholesale fabric sellers specializing in fleece. You can select the one that delivers to your location and offers the best wholesale rates.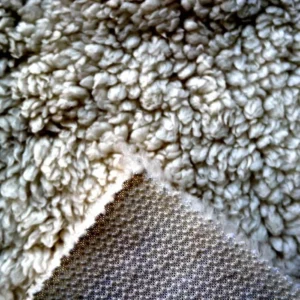 Zengbo offers a range of fleece material wholesale types, and you can buy them online. It sells fabrics at affordable rates compared to other brands out there. You can search their website to select the right fleece fabric. They offer coral, sherpa, microfleece, and polar fleece fabric wholesale. You can also choose from a variety of designs or get customized prints.
2. JOANN Fabrics
JOANN Fabrics sells fleece online and through stores. It is a good fleece fabric bulk option because they do not compromise on quality. They offer a wide variety of anti-pill, printed, and stretch fleece textiles. They also sell fleece at competitive rates so you can contact them for a quote. If you want to buy online, the shipping cost would depend on your location, and they also have a return policy.
3. YourFleece
YourFleece is also a popular fleece material wholesale brand. It is an online business that offers different fleece fabrics. These include printed fabrics with any design you want. You can also buy solid colors in a variety of fleece textures. YourFleece has different categories of anti-pill and warm fleece.
4. Pound Fabrics
If you are looking for funky patterns and designs on fleece fabric, Pound Fabrics can be your go-to brand. They offer non-pill bulk fleece fabric that is lightweight, long-lasting, and comfortable. They offer good wholesale prices and have a 14-day refund policy.
5. Fabric Land
The fleece material range of Fleece Fabric is vast. You will find plain solid-colored fabrics as well as creative designs. These bulk fleece fabrics also have a variety of textures. Most of the designs and patterns available are ideal for use in kids' blankets and clothing.
6. Fabric Direct
Fabric Direct specializes in wholesale fleece and other fabrics. Fleece is available in solid colors, plaid, stripe, floral, tie and dye, and other prints. The fabrics are perfect for adult sweatshirts, sweatpants, hoodies, kids' blankets, couch throws, and more. They sell wholesale fabric in bolts or rolls.
7. Big Z Fabric
Big Z Fabrics is another good option if you want to buy fleece in bulk. You can get fleece in a wide variety of designs. They also have solid colors and many juvenile prints. The fabric is pill free and durable.
8. Empress Mills Wholesale
Empress Mills offers many vibrant colors and designs in the fleece fabric range. The fabric is neat because it does not produce fabric pill. You can consider this wholesale store if you are looking for uncommon solids. They also provide detailed washing instructions.
9. Etsy
Etsy provides a platform for many fleece fabric suppliers to sell their products. So, you can search for bulk fleece fabric on Etsy and find many buying options. You can search by setting your price range or filter results for top sellers.
10. Indiamart
Indiamart is also a platform like Etsy with many different sellers. You can search for wholesale fleece fabric by the roll or by yards to get the material that suits you the most. You will have more design and color options to choose from.
Conclusion
Now that you know all about the types and applications, you can decide on the right fleece fabric for your use. You can choose from the fleece fabric suppliers mentioned here and contact them for quotes. Buy wholesale fleece fabric through stores or online and boost your business.