Polar fleece blankets provide warmth, softness, and comfort. Manufactured from polar fleece fabric, they can have many applications. People use them as bedding, decoration, pet blankets, and baby blankets. Properties like insulation, moisture wicking, quick drying, and durability make them handy. Other than their home and bedroom, people also carry them to outdoor activities like camping or a picnic.
This article lists twenty cheap blanket suppliers. You can order them in bulk for your specific purposes. All these brands take custom orders so you can have your blankets to your liking. We have also mentioned the various customization features of these brands in this article.
Embroidered Logo Bulk Cheap Polar Fleece Blankets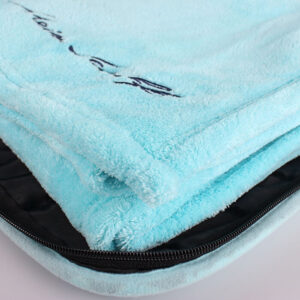 Zengbo is a blanket manufacturing company based in China with a factory in Shaoxing City. They have more than a decade of experience in textile manufacturing. They have several pre-made designs to choose from and also offer customized products. They offer many types of cheap fleece blankets.
They offer embroidered custom logo blankets. You can send them your brand's logo, and they will produce these blankets in bulk. These are suitable for private labeling with a minimum order quantity of 500 pieces. You can also customize the size, color, design, and packaging with the logo.
These particular blankets are 100% polyester fleece, making them very comfortable. They also have several properties which will make you fall in love with them. Some properties of these properties include:
It is a warm and cozy fabric ideal for winter apparel and blankets
It is soft and lightweight, ideal for various purposes
Fleece is generally less likely to cause skin allergies and irritation
Custom National Flag Print Knit Polar Fleece Throw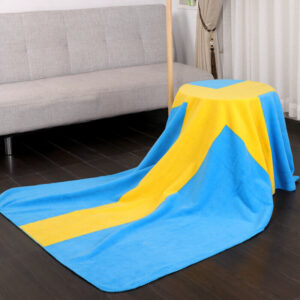 A national flag knit polar fleece is perfect for patriots and nationalists. You can use it as a decorative throw to show your support during sports events and competitions. It can be a good gift for international visitors to make their trip more memorable.
This company offers blankets produced from a knitting process. You can always contact the company to customize the polar fleece blanket to your liking. The convenient part is that this brand can provide you with a product sample for your approval. In this way, you can find out if the texture and quality are satisfactory to you so they can start manufacturing.
Custom Guitar Printed Blanket Polar Fleece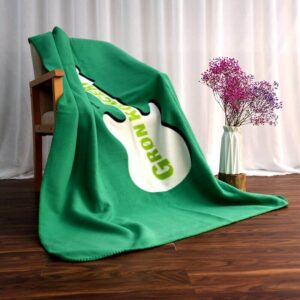 Zengbo offers custom guitar-themed blankets at a reasonable price. If you are a musician or a music enthusiast, this blanket can help you showcase your passion. A guitar-themed blanket is also a good and thoughtful gift for such people. This personalized item is functional, comfortable, and pleasing to look at.
Custom Soft Polar Fleece Blankets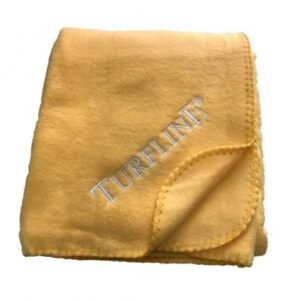 These affordable blankets are 100% polyester fleece. Such soft blankets have a variety of applications. You can use them in the winter due to their insulating properties. Furthermore, they are good baby blankets and pet bedding as they are gentle, soft, and warm. These are available in various colors so you can choose according to your liking or furnishings.
Custom Printed Cheap Polar Fleece Blankets Wholesale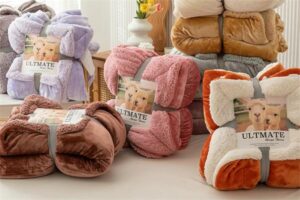 This is genuinely an exciting option. Zengbo can provide you with blankets with custom prints. The possibilities are endless, and you can be creative with your print choice. You can have your favorite graphics, memes, patterns, logos, and more printed on your blanket. Since these blankets are also economical, your custom print blanket will not only be good-looking to you, but it will also be very comfortable and warm.
Custom Plaid Patterned Bulk Cheap Polar Fleece Blankets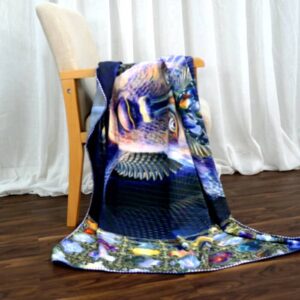 This blanket has a distinctive plaid design. It is a crisscross pattern in which vertical and horizontal lines intersect. It gives a classic and beautiful look. These blankets are frequently sought after due to their aesthetic and traditional character.
The company offers the fun option for customizing these economical blankets, too. You can choose their size and color according to your room's aesthetic and color scheme.
Custom Solid-Colored Polar Fleece Blanket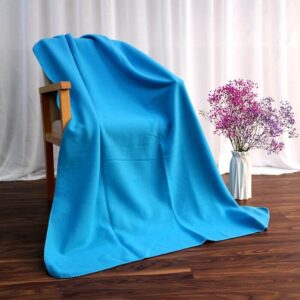 Solid-colored polar fleece blankets are simple and versatile. Many people often seek them as they can easily fit into various surroundings. Zengbo offers solid-colored blankets in a variety of color ranges. They can send you the sample beforehand to ensure you approve of it. So you can see how your chosen color shows on the blanket and if it fits in the surroundings. The dyes used for these blankets are high quality, so you won't experience color fading. Furthermore, their dyes are environmentally friendly (approved by the Oeko-Tex Standard 100).
Thermal Plain Colored Blanket Polar Fleece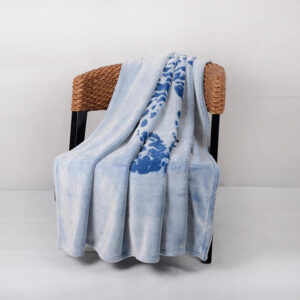 Zengbo offers plain thermal polar fleece blankets at a reasonable price. These blankets provide extra warmth due to their plush texture and insulating abilities. They are quite desirable as they also have moisture-wicking and quick-drying capabilities. Choose whichever color you want and approve the sample so they can start manufacturing your order. You will then receive good quality blankets at wholesale price.
Customized Extra Warm Reversible Polar Fleece Blanket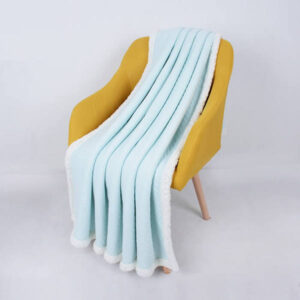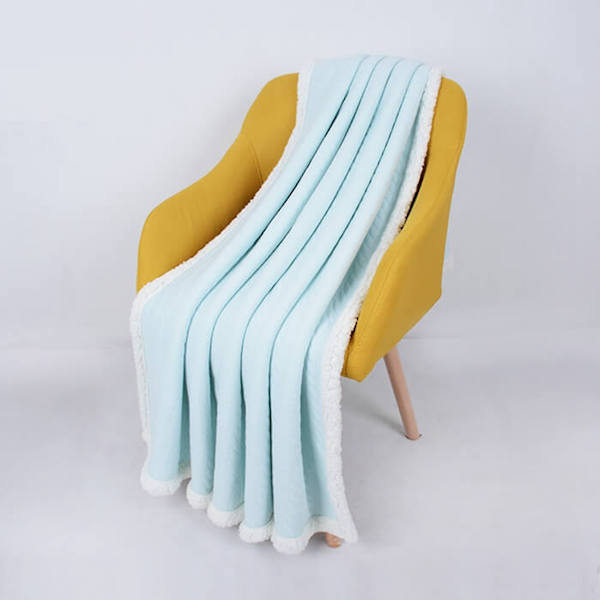 Reversible polar fleece blankets are an exciting home decor option. This is because these blankets have two different designs on both sides. You can switch the sides according to a room's color theme or mood. It is like having two blankets; once you get bored of one side, change it to another.
There are different purposes for this blanket, like photography. This is to get more versatile settings for a photoshoot. Such blankets can fit in the color scheme of multiple rooms as both sides can be differently colored and designed.
As if their double-sided designs weren't good enough, Zengbo's reversible polar fleece blankets are extra warm. This is no surprise as these consist of good quality 100% polyester, ensuring warmth and comfort.
Customized Plush Printing Cheap Polar Fleece Blankets Wholesale
These polar fleece blankets have a plush texture. This makes them warm, comfortable, and luxurious. Furthermore, you can customize them with your choice of graphics, patterns, and designs.
Custom Logo Bulk Cheap Polar Fleece Blankets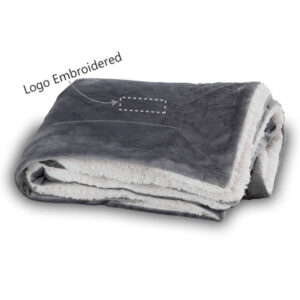 These blankets by Zengbo are plain colored with a logo. You can customize the logo with that of an organization, company, or other purposes. You can purchase them in bulk at a wholesale price. Travel agencies can distribute these blankets among tourists or be a company gift to their employees.
Two-Sided Brushed Rotary Printed Polar Blanket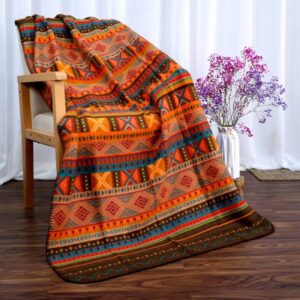 Let's first understand rotary printing so you have more knowledge during blanket shopping. It is a specific type of fabric printing that results in beautifully designed or patterned blankets. Here is a general manufacturing method for such blankets:
The first step is choosing the design.
The rotary printing machines loaded with perforated cylindrical screens transfer ink to the fabric.
Fabric enters the machine, and the screens transfer the design to it.
Once printed, the material is then cured.
The material is inspected for imperfections in the design, which are then rectified.
Another property is the brushed sides of these blankets. This gives them a fuzzy and soft texture, making them very comfortable and warm. The good looks and several properties you can desire in a blanket make it a good choice.
Tongxiang Zhuoyi Affordable Polar Fleece Blankets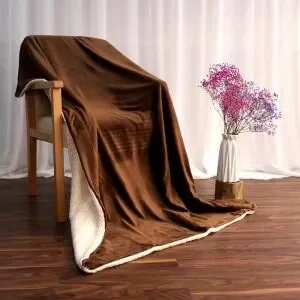 TongXiang ZhuoYi Textile has been in the textile business since 2008. With so many years of experience, it is a reliable brand to choose from. They offer microfleece blankets in many colors, which are lightweight yet warm. They provide specific blanket sizes and weights on their online forum. These are 120 by 150cm and 370gsm, respectively. However, you can chat with them regarding the customization of your cheap polar fleece blankets wholesale.
Shanghai Raiz International Trade Blankets Polar Fleece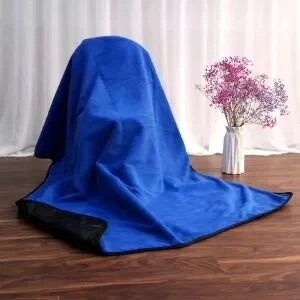 Shanghai Raiz International Trade Co., Ltd. is a textile company based in China. They supply a variety of fabrics all over the world. As for polar fleece blankets, there are a variety of options to choose from. They provide endless customization options for their products. These include custom size, weight, color, and print on the blanket. They ship these blankets in bulk, and the minimum order quantities vary for different blankets. So you can check their website for such information.
Hangzhou Winde Home Furnishing Polar Fleece Blanket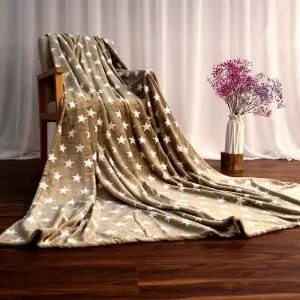 Hangzhou Winde Home Furnishing Co., Ltd is a China-based wholesale blanket manufacturer. They have a wide variety of polar fleece blanket designs to choose from. You can also customize them by contacting them and presenting your customization request. They will provide you with a free sample of your chosen product (you will have to pay the freight cost, though). The blankets are portable, waterproof, and resistant to pilling.
JHome Technology Polar Fleece Blankets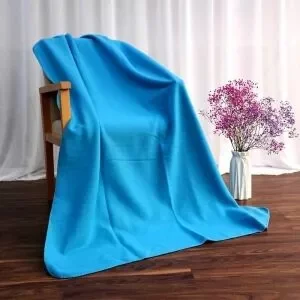 Wuxi JHome Technology Co., Ltd is a textile manufacturer and supplier. It is a China-based brand with more than twenty years of experience in textiles. They ship worldwide, with their main markets in the United States, Germany, the United Kingdom, and Malaysia. They offer high-quality cheap polar fleece blankets wholesale.
Suzhou Uniwell Textile Polar Fleece Blanket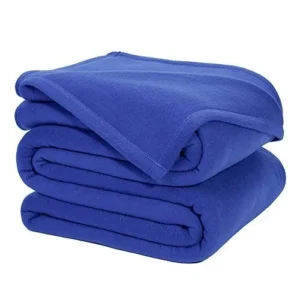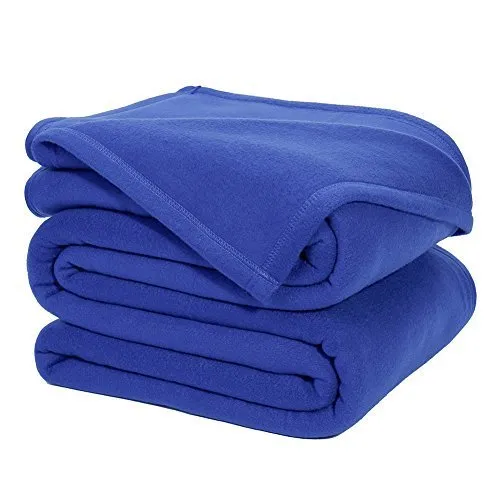 Suzhou Uniwell Textile Co., Ltd. provides a variety of polar fleece blanket types at wholesale prices. You can customize your blankets with different colors, designs, and patterns. You can also customize your blankets' size, weight, packaging, and edge work.
Zhuji Juncai Knitting Blanket Polar Fleece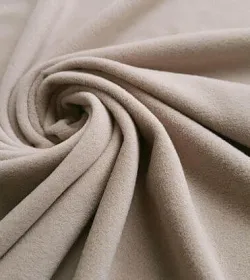 Zhuji Juncai Knitting Co., Ltd. is a Chinese company specializing in textiles. They offer a vast range of fabrics with varying colors and designs. You can order your blankets in bulk from them at a wholesale price. You will have to pay for a sample if you want one.
Truelove Polar Fleece Blanket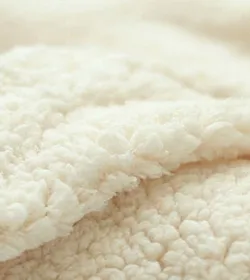 This Chinese foreign trade company has operated since 1998. Initially a blanket manufacturer, this company has earned a good place in the industry. You can find several designs of economical blankets on their website, primarily floral. If that is your thing, this company is a good choice. You can also contact the supplier to make a customization request.
YF Home Cheap Polar Fleece Blankets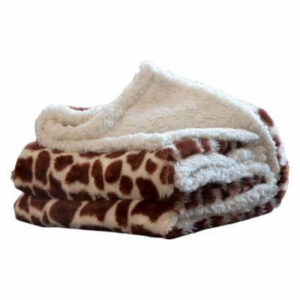 Shaoxing Shangyu YF Home Textile Co. Ltd. is a textile company based in China with many years of experience. They offer many types of polar fleece blankets, which they claim are handmade. You can order custom-sized, colored, patterned, and textured blankets.
Conclusion
In conclusion, there are many wholesale blanket manufacturers you can order from, and we mentioned a few in this article. We also mentioned the various features of these cheap polar fleece blankets. We hope this post helps you find the perfect polar fleece blanket supplier for your next purchase.