A picnic is an excellent option to relax and give yourself a good time from busy life. It relaxes the mind and body. It is like refreshment, and it helps add charms to life. Some people like to picnic in northern areas, and some want to go to the sea coast, beaches, etc. But planning is necessary to make your picnic successful and charming. For this purpose, you must arrange food, comfortable transport, hotel reservation, camping items, etc.
What kind of blanket is best for picnics?
Picnic blankets are a crucial part of a picnic to sit comfortably and enjoy a picnic. That's why a good and comfortable picnic blanket must pack with you while you plan to picnic. Picnic blankets should be attractive and comfortable to make your picnic memorable.
Waterproof picnic rugs are durable and robust enough to use long-term. These are made from strong polyester fabric that is difficult to tear by hard rock. A waterproof picnic blanket has a pocket on its four corners to make it more convenient or reduce the fussiness of setting the blanket repeatedly. Some waterproof picnic blankets also have loops to tie with your camp.
Some portable waterproof picnic blankets are designed not to carry in your hands while hiking. These are so lightweight that is best for picnic purposes. These have a pouch that folds them, and you can easily carry them in your fist. You can also hook them on your backpack.
Waterproof picnic rugs are designed with such a good material that nothing can stick over them. Sand will slide over it and leave it clean. You can easily wipe off sand and dirt from it. Waterproof picnic rugs come in different colors and prints. You can choose your favorite one to blend with nature and make your picnic colorful yet memorable with these portable waterproof picnic blankets.
Here proof blankets are made from waterproof materials, e.g., polypropylene, acrylic, fleece, and nylon. Waterproof picnic blankets are specially made to add an extra layer of protection to their picnic seats and make people more comfortable.
Today, imagining a lovely outing without a picnic blanket is difficult. We're here to offer advice on choosing a picnic blanket today.
Here we will guide you all about the best waterproof picnic blankets. A waterproof picnic rug is the best choice when going for an outing because it has the following specifications:
It is portable, and you can carry it more quickly than other heavy folded picnic blankets

It is effortless to use. You need to unfold it.

It is waterproof, keeps you dry throughout your picnic, and protects your clothes.

It saves time as it is easy to carry and use.
Can you wash waterproof picnic blankets?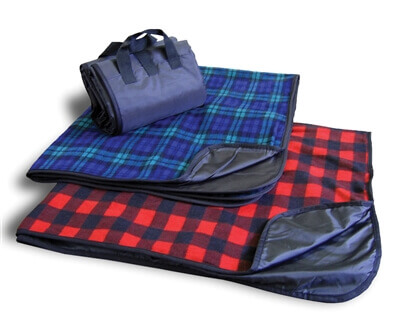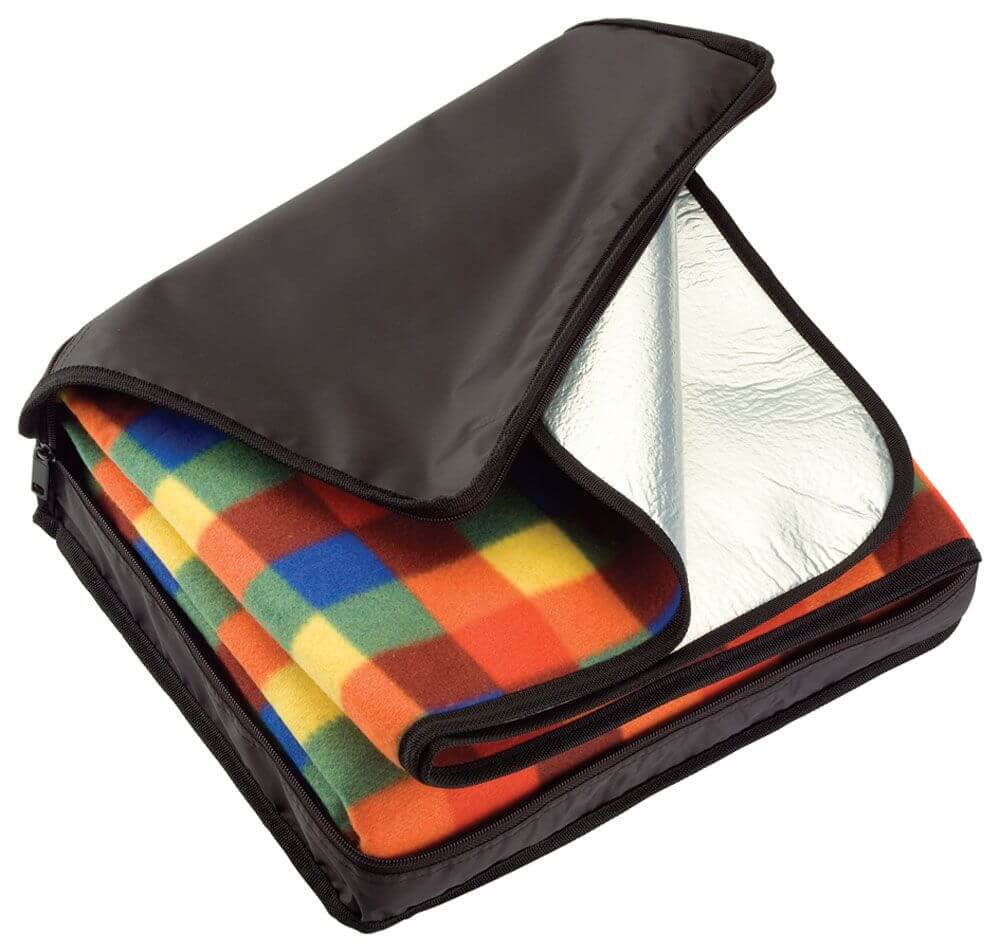 Yes, you can wash waterproof picnic blankets to remove dust and debris. It would help if you washed waterproof picnic blankets with extra care. Everything demands to care, so you need to take care of all of your picnic items. Once waterproof picnic blankets get dirty, you can wash them in a washing machine or by hand.
Here are some valuable tips for washing your waterproof picnic blankets to make them durable.

Always wash separately in the washing machine.

Wipe off all the debris and dirt from your picnic blanket.

Always wash your waterproof picnic blanket with the light setting on the washing machine e.g. delicate cycle or light cycle with cold water.

Softener or mild detergent should always use for washing picnic blankets. Do not use harsh chemical detergents.

If you want to wash a waterproof picnic blanket by hand, you can use cool water. You can use mild detergent and a tub with cool water to wash the waterproof picnic blanket by hand.

Once done with the washing machine or by hand, you need to take the picnic blanket out to dry.
Precautions to keep picnic blankets always waterproof:
Never use hot water to wash waterproof picnic rugs as it will destroy their waterproof layer and they will lose their waterproof quality.

Don't leave them in a sun for a long time.

Don't dry waterproof picnic blankets with dry iron or steamer etc.

Don't leave a waterproof picnic blanket in rain.

When it dries out completely store it in a safe place.
What is the ideal size of a picnic blanket?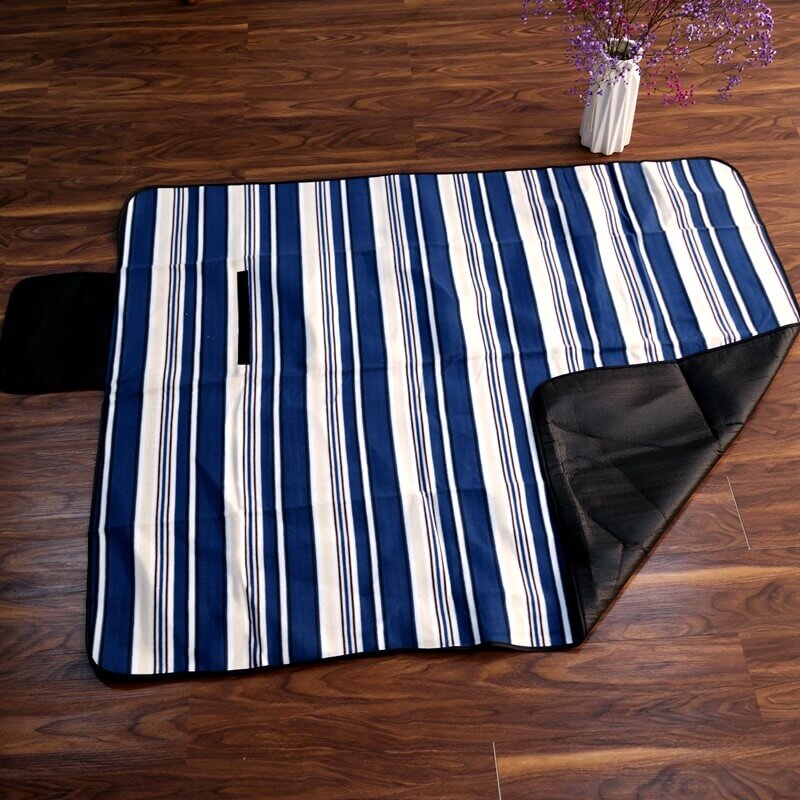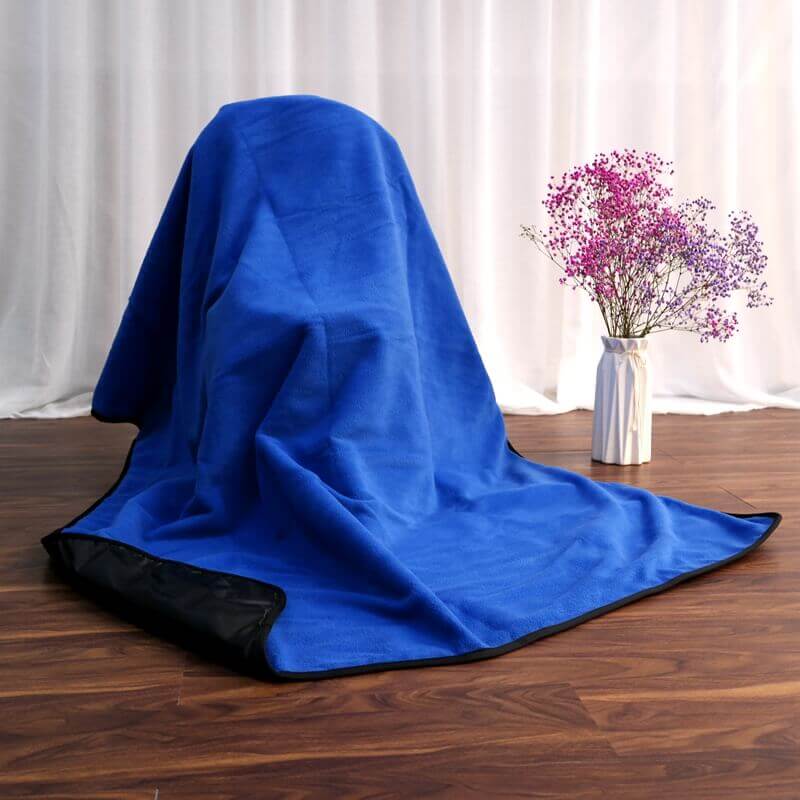 Ideal waterproof picnic blankets are suitable for 2-4 people with enough space to adjust lunch or sports items. You need to choose a picnic blanket size according to your need, whether you are going solo or with family. If you are going with a large family, you need to select an extra-large picnic blanket, and if you are going with your partner, you need to choose a small one. 
You also need to consider the food and other picnic items on your picnic blanket to have a good space for your food. It would help if you also thought of relaxing your body so you may lie down and take some rest on it. But it should not be much more significant that it takes a lot of space in your car, and it will become difficult for you to fold and unfold it in an emergency, so choose a size that suits you. Twenty-five feet blanket is the smallest in size which is available. 
Waterproof picnic blanket detail:
Waterproof picnic blankets are the best portable blankets to carry easily anytime and anywhere. These are comfortable and lightweight compared to other heavy and foldable picnic blankets. Specially designed for outdoor picnic purposes. Portable waterproof picnic blankets are multi-purpose. Students, tourists, families, sports person anyone can carry it anywhere and can use it effectively with satisfaction. 
Material:
Waterproof picnic rugs are made from lightweight, high-quality materials, e.g., fleece, nylon, polypropylene, polyester, acrylic, etc. Waterproof picnic blankets come in different colors and patterns. 
Size:
Waterproof picnic blankets come in different sizes. You can choose it according to your requirements. If you are going solo or with a partner, you can choose a small one; if you are going with family, you need to have an extra-large one. We have an extra-large waterproof picnic rug with size 78×59 inches. It can fully open, gives you extra room for accommodation, and easily fold and take up less space in your car. A waterproof picnic rug also comes in 55×60 inches, which is suitable for a small group. 
Washing instructions:
It is machine and hand washable. Use mild detergent and softener for washing it. Never use bleach and chemical. Otherwise, it will harm its waterproof layer. Don't dry with iron. Could you keep it in dry places? 
Use:
A waterproof picnic blanket can be used during sports events, on beaches and grass, and outdoor activities. 
Application of waterproof picnic blankets:
Waterproof picnic blankets are helpful not only during outdoor picnics but also in backyards. You can use a waterproof picnic blanket as a sand proof mat or picnic mat. These are essential for everyday use. Here we will discuss where you can use waterproof picnic blankets daily, so buying the best one will be worth it.
Family picnic:
For a family picnic, you must be prepared all the essential items for a picnic. It would help if you had an excellent waterproof blanket in your backpack whenever you plan a picnic with your family, whether on the seaside or a mountain. Waterproof picnic blankets are lightweight, comfortable, and portable so that you can keep them easily during your trip. These are easily wiped off, and they will not give you a foul smell when you eat food on them. It will provide a comfortable space for your kids to play. Your toddler will feel relaxed and happy as its material is skin friendly.
Reading on the grass:
Students always love to spend time in the backyard while reading. It provides a calm and soothing environment to spend time with books. You can use waterproof picnic blankets on the grass while reading. These are great for use on the grass. These are lightweight so that you can carry them in your bag. 
Basking on the beach:
These waterproof beach blankets have a waterproof layer that 100% respells water and doesn't allow it to absorb. These are great for use on the beach and wet areas to sit and enjoy the scenes safely. You will stay dry if sitting on the beachside and sudden water waves come towards you. So, it is a good option for you to carry it on the beach. 
On the floor at home:
You can use it at home for so many reasons. You can use it as a dining or painting mat as it is washable and waterproof. 
Conclusion
Picnic blankets are an essential item of our daily life. We are extensively using these blankets from our homes to outdoor sports events. Choosing a durable, portable, and comfortable picnic blanket is essential. 
So are you planning outdoor activities and looking for the best and most high-quality waterproof picnic blankets? You can contact us.