What is Shower Curtain? Shower curtain always used in the bathroom, has two main purposes: providing privacy and preventing water from spraying or flooding outside the shower area to make sure your shower room is protected from structural and mildew damage. There are shower curtains in plastic, PEVA, vinyl, cotton, polyester, or a blend of material. Some shower curtains may need to use with liners, rings, shower hooks & rods, magnets, and suction cups.
There are given below detail of top five shower curtains manufacturers in China :
1. Shaoxing Zengbo Textile Co.,ltd
In the year 2007, Zengbo company was founded in China by Bangzeng Zhu. In the beginning, the company positioned as a China blanket manufacturer. Then with the development of the company, extended the product line to the fabric shower curtains and bath rugs.
If you want your personalized shower curtains in bulk for your hotel, brand, business, club, team, or organization then Zengbo company can help you to make it! The company has its own shower curtain factory, experienced designers, and reliable raw material suppliers, so you can get the competitive wholesale price and highest quality. Moreover, their min order quantity is only 50 pcs, it's amazing! If you're looking for a shower curtain manufacturer with low MOQ, Zengbo will be a good choice!
Shower Curtains Types:
Custom Polyester Shower Curtains
Custom PEVA Shower Curtains
More Information about the Company's Services:
ODM/OEM Service Provided: Professional one-stop custom made shower curtains solution for global suppliers, distributors, wholesalers, shop, and brands.
Basic Material: Polyester; PEVA
Wide Usage: Home Bathroom, Restroom, Master Bathroom, Kids Bathroom, Power Room, Guest Suite, Hotel Shower Room, and some commercial use.
Custom Designs: Solid color, Custom pattern printed, monogrammed, custom logo printed, private label, etc.
Export Market: The company's products are exported to USA, Canada, UK, Denmark, Poland, Ukraine, Russia, Australia, and more countries.
Company Website: https://zjmanew.com/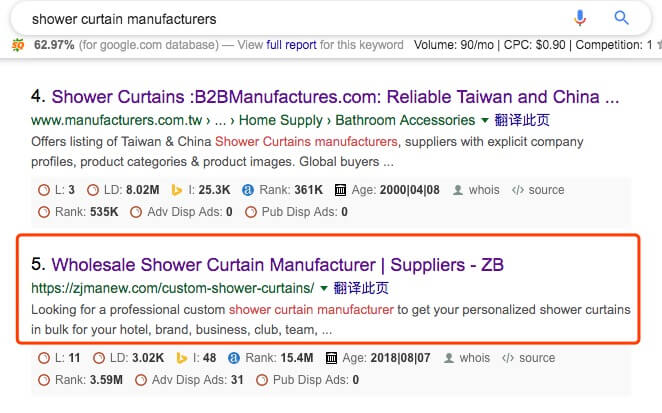 2. Shaoxing Dairui Textile Co., Ltd.
Since 1995, Shaoxing Dairui Textile Co., Ltd. is one of a professional home textile manufacturer with rich experience, which is located in Shaoxing, Zhejiang, China. From several years, the company engages different types of home furnishing such as readymade curtain, curtain fabric, cushion, pillow, and bedding sets, etc. The company's products are exported to overseas, e.g., Europe, North America, South America, South Africa, etc.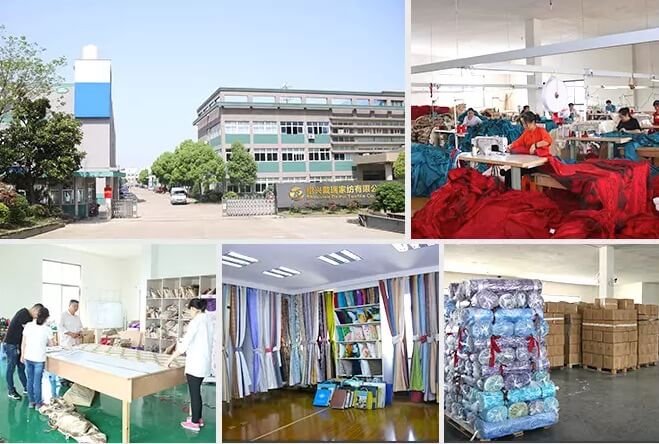 Their main products include curtain, cushion, shower curtain, and curtain accessories. The designs of their shower curtain are very stylish and popular, and it's ok if you want to use their designs on site. What's more, they are also happy to help you promote your designs and ideas. But the min order quantity is a little bit high, it's 500 pcs.
Company Website:- https://dairui.en.alibaba.com/
3. Wujiang Chuanghui Textile Co., Ltd.
Wujiang Chuanghui Textile Co., Ltd. is situated in Shenzhen Town, Wujiang City, which is one of the three biggest centers of fabrics. It established in 2011. The factory covers over 30,000 square meters with more than 10 production lines. The production capability is 200,000 meters per week. The office of the company covers over 500 square meters for the domestic market and overseas market business. The company focus on designing, researching and developing, manufacturing and selling different kinds of home textile fabric and related finished products.
The company's products are exported to Western Europe, Southeast Asia, Eastern Asia, North America, South America, Eastern Europe, Africa, Central America, Northern Europe, Southern Europe, South Asia, etc.
This company is verified onsite by world-leading inspection company, TUV-SUD Group. All of their production equipment, annual production capacity, test equipment, and production flow are also verified!
Company Website:- https://chuanghuitex.en.alibaba.com/
4. Yuyao Pretty Home Sanitary Wares Co., Ltd.
Yuyao Pretty Home Sanitary Wares Co., Ltd. (Yuyao Hengmei Sanitary Wares Factory ) is located the east of Ningbo, China. It founded in 1993. The company is a professional designer and manufacturer of kinds of sanitary ware products. The company produces based on scientific manage, advanced equipment, and technology. It helps to produce a high-quality product which is favors by customer.
Company Website: chinarenren.com
Product Categories:
Shower Curtain Rod
Shower Curtain
Shower Hook
Grab Bar
Towel Rack
Shower Seat
Storage Basket
Safety Bars
Shower Chairs
Bathroom Shower Shelf
5. Sandex Corp
Sandex Corp is an ISO 9001-2015 well established & one of leading India based manufacturing and exporting company doing a wide range of home textiles products. It founded in 2006. The company's products are exported to US, UK, Germany, Italy, Netherlands, Denmark, South Africa, Australia, Thailand and South American countries like Chile, Uruguay, etc
China, the Importing country of the company's products. Also, The company has its sourcing office in China and Pakistan. The company has its overseas marketing offices in Sydney/Australia and Wichita Falls/Texas.
The company has a kids bedding brand "Hugs 'n' Rugs" available in the domestic market in India and the company has placed it impressively across all major online e-commerce B2C portals. Another important and fast selling product is microfiber cleaning towels, being sold by MaxxClean brand in domestic as we well as in exports market.
Company Website: sandexcorp.co.in
https://zjmanew.com/wp-content/uploads/2019/07/shower-curtain-manufacturer.jpg
444
659
hx_admin
https://zjmanew.com/wp-content/uploads/2020/02/logo-2_9167d06ad8f86ff17704c84857992404.jpg
hx_admin
2019-07-03 09:36:43
2019-11-28 06:13:38
Top 5 Shower Curtains Manufacturers in China